MONITOOL Project Final Conference, 10:00 - 14:00 (UTC+2; CEST)
Events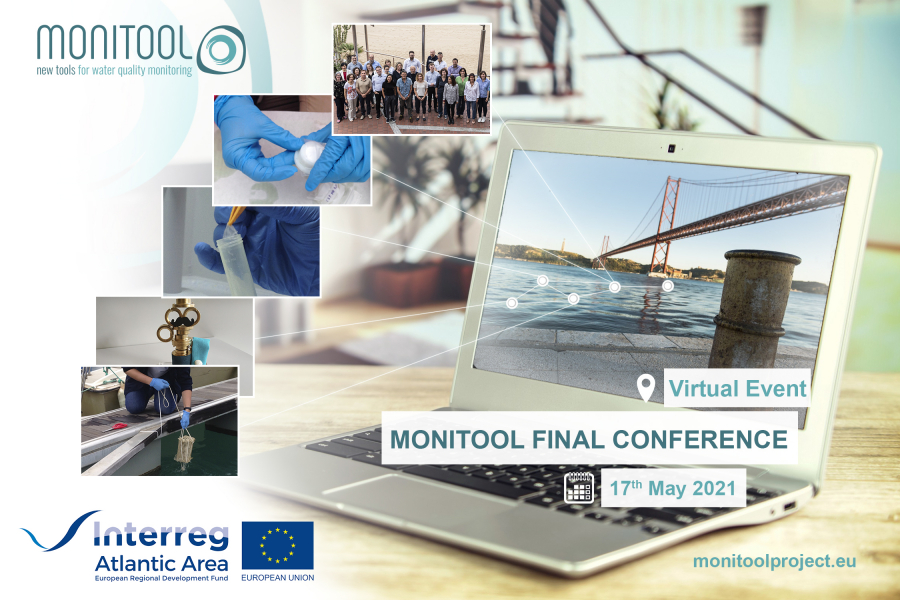 Date:
May 17 2021
00:00
Venue: https://gather.town/i/XVUKybYF
The MONITOOL European project aims to respond to European Directive demands for the assessment of chemical status of transitional and coastal waters, allowing the use of passive sampling devices (PSDs) in a regulatory context, enhancing the implementation of the Water Framework Directive (WFD).
After almost 4 years of hard work, MONITOOL project is coming to an end, and we are preparing the FINAL MONITOOL CONFERENCE in order to share the results achieved.
WHEN? 17th of May 2021; 10:00-14:00 (UTC +2; CEST)
The event will be held in English and online hosted by IPMA and IST (Portugal).
WHO IS THE TARGET AUDIENCE? Save your date if you are a:
Regional, National or EU policy maker
Member of the scientific community
Entrepreneur in the private sector (analytical laboratory, environmental consulting, etc.)
Or just interested in marine environment monitoring
WHAT TO EXPECT?
Summary of our project work & results with comments from MONITOOL partners.
Solid knowledge on the use of DGTs (Diffusive Gradient in Thin films) for water quality monitoring under the WFD.
An interactive session where associated partners and all beneficiaries can give beforehand their input on the project´s hot topics and future perspective.
AGENDA: here

LIMITED PLACES: 100
To register for the conference, you must follow the link:
https://docs.google.com/forms/d/e/1FAIpQLSfz8J2--C7vrPA0RfT6b3k8Mmjln6GCaaLT5qwVQVAWsrWqow/viewform
Registration for the Conference is mandatory to be enabled to attend the Virtual Sessions.
Email
This email address is being protected from spambots. You need JavaScript enabled to view it.