SETAC Europe 33rd Annual Meeting
Events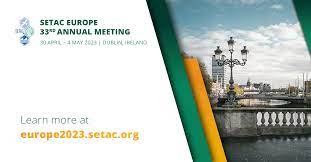 Date:
Apr 30 2023
00:00
-
May 04 2023
00:00
Venue: Dublin, Ireland and online
The Scientific Committee for the SETAC Europe 33rd Annual Meeting is committed to putting together a not-to-be-missed conference with an exciting scientific programme addressing the overarching theme of "Data-driven environmental decision-making" for the protection and restoration of the environment.
The breadth of topics that SETAC Europe 2023 will address includes:
1. The environmental fate and effects of emerging and existing pollutants and their mixtures, at cellular, organism, community, population and ecosystem levels;
2. The development of solutions to reduce, replace and regulate the use of known pollutants;
3. Strategies and methods to mitigate and remediate contaminated soil, air and water;
4. Innovations to foster more sustainable practices in agriculture, waste treatment, resource management and more; and
5. Life cycle thinking approaches including supply chain data collection, impact assessment modelling and footprinting methodologies.
The scientific programme consists of 7 tracks for parallel sessions.
1. Environmental and human toxicology: from molecules to organisms, from omics to in vivo
2. Ecotoxicology becomes stress ecology: from populations to ecosystems and landscapes
3. Environmental chemistry and exposure assessment: analysis, monitoring, fate and modeling
4. Ecological and human health risk assessment of chemicals, mixtures and stressors and risk mitigation strategies
5. Life Cycle Assessment and foot-printing
6. Environmental policy, risk management, and science communication
7. Think-outside-the-box (fundamentally new concepts, innovative/controversial ideas, interdisciplinary issues)
Email
This email address is being protected from spambots. You need JavaScript enabled to view it.
All Dates
From

Apr 30 2023

00:00

to

May 04 2023

00:00